How to make a survey
Last Updated: 1 March 2022
1. Add your questions
On the survey maker homepage or within the Dashboard
With our online survey maker you can publish your first online survey in under 5 minutes. The following steps will help you make your first online survey:
Enter a description survey title.
Hit 'Add Question' and select your first question type. Learn how to write great survey questions here
Continue to do this for all of your questions.
Hit the 'Settings' menu. From here you can manage the behavior of your survey. You don't need to enable or disable anything as all of the defaults.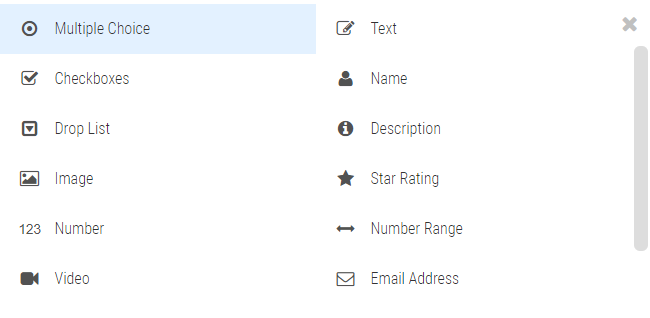 2. Share and Publish
Your survey is now ready to go live and begin collection responses.
Hit the share tab and signup for an account if you haven't already done so. Adding an email and password will allow you to view the Dashboard and export/manage your results.
If you're sharing via email you need to copy the survey link. This is a link to your live survey.
If you want the survey to appear on your website at the top of the Share screen you'll see an Embed menu item. Click this and copy the Code. This is what you'll paste into your website content editor.
Take the survey yourself first and if possible ask a friend to do the same. Is everything working like you expected? You'll be able to remove your results from within the dashboard so don't worry about messing up your results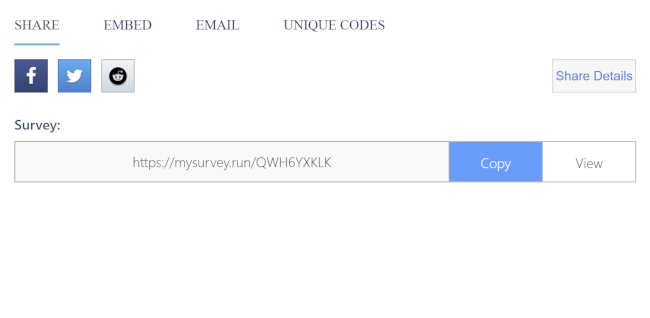 3. View and Manage Results
Your participants are responding and your survey has been a success. How do you now dig though responses for your precious nuggets of information?
Login to the dashboard and click the title of the survey you're working on.
To access our integrated reporting click the 'Results' button. From here you can see a summary for each of your questions.
You can hit the export button to export your results to a spreadsheet or HTML file for further analysis.
The Responses button allows you to see and manage individual responses.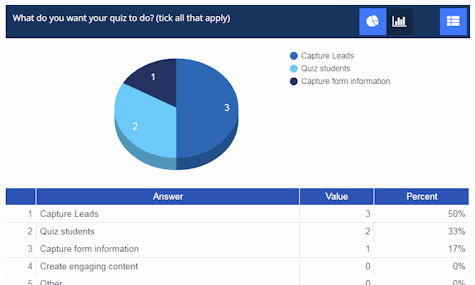 Still have questions?
How to make an online survey free
You may create your first online survey in Survey Maker completely free. This will allow you to collect responses and access all parts of our Dashboard. We also offer a 14 day free trial for organisations which require ongoing access and unlimited responses. You can try out our professional packages completely free for 14 days all free of charge.
View our plans and options here.
Can I add pictures and video to my survey?
We support picture and video questions. Simply click the image icon on a question or answer and you'll see the advanced editor which allows you to upload both images and link to videos.
How do I access my survey maker results?
You can access your existing results, edit your existing survey and create more surveys by logging into the
Dashboard
. In the Dashboard you'll be able to export your results, filter your results or simply view graphs and individual responses.
Can I see survey examples?
How do I make my survey a success?
What is the difference between a questionnaire and survey?
A questionnaire is limited to the front part of a survey, it is simply a set of questions. An online survey includes automated means of reporting and deliverying questions to your recipients. A survey includes everything you don't see which happens behind the scenes with online survey makers like ours.
How to make an email survey?
While it would be great to be able to run full surveys via email there is a very good reason you should not do it. Unlike a web browser email clients like gmail and hotmail rended web pages in very different ways which prevents an online survey from displaying correctly. Decent response rates are challenge without additional roadblocks like picky email clients. We suggest short, sharp survey introductions which include a link to your online survey.
How to get online survey responses
There a number of ways to get in front of your target audience online. First you should consider which online neighborhoods your target audience is already visiting. Can you work with a podcast, youtuber or facebook group to promote your survey? Even if your survey is for research you may need to consider sponsoring one of these partners. If your budget permits you can also pay directly for traffic with Adwords and Facebook, both allow you to target demographics. In addition to these tips keep your survey as short as possible and take a look at our tips to
increase response rates
.
How to block or allow multiple survey responses
You may wish to control how many responses people are able to submit to your survey in an effort to improve accuracy. You can do this by hitting the 'Settings' tab of our editor and then hitting the 'Security' button. You'll then see a configure option which will allow you to control the number of responses people may submit. You may even enable Unique codes which will require each respondent to enter a single use code to respond to your survey.
How to create a survey on Facebook
Facebook doesn't have it's own survey platform but most major free online survey creators like ours allow you to run your survey with a Facebook invite. Simply create your
survey on our homepage
, hit the Share tab and then grab the URL of your survey to post on Facebook. You'll see Facebook will auotmatically pick up the Survey Title as the description of the link within facebook.
Online Survey Terminology Explained
Survey Logic
Survey logic allows you to hide, show and skip to certain questions depending on the answers your participants provide. Imagine you have a multiple choice question asking how satisified your customers are with your service. You may want to ask a follow-up question if your survey taker answers extremely dissatisfied. Survey logic allows you to do this.
Response Rate
Your response rate is simply the number of people that have responded divided by the number of invites you've sent out. It varies wildly depending upon the purpose of your survey, industry and many other factors. We've compiled a bunch of tips to help you improve your response rate.
API/Integration
If you intend to run your survey on a regular basis it will make a lot of sense to automatically process your results. You may want to send results directly into your customer service management software or email relevant staff when you receive certain responses. This is achieved via an API which is a technique for allowing two different software packages to talk to each other.
SSL Encryption
SSL Encription is a process websites use to ensure communication between a visitor (or survey taker) and the website host remains private and readable only by the two parties. You can tell your Survey is SSL encrypted by ensuring the address starts with a 'https'. Privacy and confidentiality are important to survey participants and this is now considered a minimum industry standard.
Hosted Embedded Surveys
Hosted and embedded refers to where the survey is taken by your participants. An embedded survey is taken on your website by 'embedding' a piece of code which displays your survey as part of your website. A hosted survey is one which can still match your branding but is taken on our website. We haven't seen a difference in response rates between the two and a hosted survey is a much simpler proposition.
Piping
Piping allows you to take an answer and use it throughout your survey. You might ask for a participants name and want to personalize a later part of your survey by addressing them by their name. You can achieve this by using survey piping. Open the advanced editor by hitting the 'icon'. You can insert a previous answer by hitting the 'Answer' button.